Found total of 2 items
Reconstructing a 16th Century Theatre in 3D

ritnews,
---
Research IT will soon be helping Oscar Seip from Italian Studies, School of Arts, Languages and Cultures to recreate a 3D prototype model of a 16th century theatre supposedly built for the King of France, Francis I. There has been some debate whether this theatre had in fact been a 'real' theatre but Oscar has discovered new evidence which suggests that it did actually exist.
Interested in Using VR in Your Research?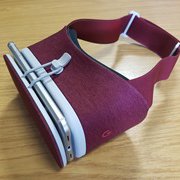 ritnews,
---
Research IT took part in the latest Digilab meeting at the end of November with the aim of showing off some of our new VR equipment and to demo them to researchers from across the university. A successful day was had with lots of interest in our HTC Vive and Google Daydream VR headsets and their applications in research. There was a mix of researchers who were already using VR in their research in some form to researchers who were trying VR for the first time. Hopefully they left with some inspiration on how VR could be used in their research!