The HTC Vive was used to demo two experiences:
Richie's Plank Experience
where the user is taken up to the top of a high rise building where there is a plank in front of them – a bit like "walking the plank" off a tall building! To make the situation appear even more immersive, we set up a real plank in the room. This is an excellent example of how VR can trick the body into replicating the feeling of vertigo, even when you are completely safe. This kind of VR is useful for researchers who might want to replicate a particular experience without the worry of Health & Safety, and costs.
This was a very popular demo and had a whole variety of reactions from those who were overwhelmed by the drop and could barely put a foot on the plank, to others who could slowly but surely make their way to the end. The vast majority of people commented on how impressed they were at how a simple demo could trick their body, even though they knew the drop wasn't real. Some likened the tension and thrill to being on a rollercoaster.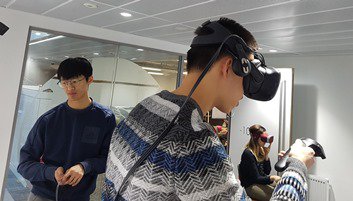 The Body VR was used to demonstrate how VR can be used as a teaching tool by anatomy researchers and teachers. The experience takes you on a journey into the bloodstream with a chance to interact with the cells that are being described. Those who tried it liked the slick and fun presentation, and the ability to inspect the human anatomy in an interactive environment.
The Google Daydream VR isn't as sophisticated as the HTC Vive, it can't do room scale tracking for example - but is impressive nonetheless. The top selling point is its portability – there is no requirement for a powerful computer, only a high-end smartphone. Participants explored far off worlds in YouTube VR, played around with nature and visited virtual museums in Google's remarkable demos. Many were impressed by the immersive feel on a simpler system and liked it's portability. Due to the portability, and much easier and wider access to a high end smartphone than a powerful computer, mobile VR is seen by many as the key to VR's future.
If you are interested in learning more about VR or would like to use VR in your research please get in touch with our experts.