Found total of 1 item
MathWorks Webinar: MATLAB for New Users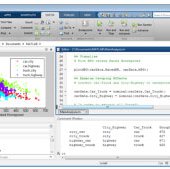 ritnews,
---
MathWorks are organising webinar to introduce MATLAB, a high-level language and interactive environment for numerical computation, visualization, and programming. The course will take place 2nd August 2016.
MATLAB includes built-in mathematical functions fundamental to solving engineering and scientific problems, and an interactive environment ideal for iterative exploration, design, and problem solving. Through product demonstrations, you will see how this combination allows you to quickly explore ideas, gain insight into your data, and document and share your results.
Please allow approximately 45 minutes to attend the presentation and Q&A session. This webinar will be recorded, so if you can't make it for the live broadcast, register and we will send you a link to watch it on-demand.
For more information and registration please visit the event website.