The University is always looking for new ways to disseminate student research outputs in order to promote student employability, and to help with community engagement and the University's social responsibility goal. However, there isn't currently an effective and easy to use tool for staff to achieve this.
Research IT became involved in solving this issue when Dr Sarah MacQuarrie from the Institute of Education (School of Environment, Education and Development) attended one of our virtual drop-in sessions last year and discussed her ideas with us.
This resulted in the project "Display (Developing and disseminating student projects with lay audiences)", led by Sarah, in order to explore how engagement can occur and be reported within student research projects. This innovative project developed a student research project model and enhanced dissemination route for the actual outcomes of student research projects. A website entitled "Sharing Student Projects" has recently been launched.
The website was developed by two of our Research Software Engineers (RSEs), Qinhan (Annie) Zheng and Theresa Teng. This bespoke site streamlines the time required to upload and manage the summaries of student research project outcome, offering a simple and workable plan for staff to share student work. It also makes it easy for other Schools and Faculties to join the project and embed dissemination expectations within the research project. The site allows for experienced and emerging researchers to have their research more visible and potentially reach many audiences and communities that are not always considered as part of the research process.
The technology used to develop the site was Django (a Python based web framework), Wagtail CMS (a content management system built on Django), both of which are part of our Web Application Development Service (WADS). The WADS focuses on developing bespoke web applications for research projects, i.e., the applications that have bespoke requirements that cannot be met by existing standard services. WADS can also offer maintenance arrangement plans for websites such as these if funding is available.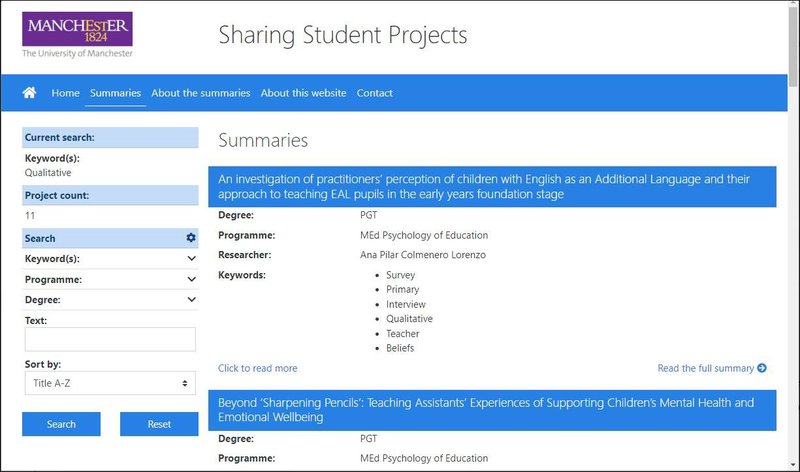 According to Sarah, having the site developed to promote and disseminate student projects offers multiple benefits such as:
Students are supported in preparing for life after university by strengthening their communication skills.
Students will appear distinctive by virtue of their achievements combined with their research and knowledge translation skills documented in real-life research projects.
Students and staff will acquire a greater understanding regarding their role, recognise their value is appreciated on many levels and realise their contribution is vital for University goals to be met.
Making such content freely available will also inspire and motivate engagement by signalling to communities that their participation has demonstrable value on multiple levels.
If you'd like to discuss possible future collaborations including the development of a bespoke web application, please get in touch!