This is the first of what I'm hoping will be a biannual blog series written by me, as Head of Research Software Engineering, to our research community. Its purpose is to share with you some details of how we are developing as an RSE team and how the journey we are now on will affect you as the community we serve.
RSE Team Levelling Up Programme
One of my personal aims when I applied for this job was to develop and implement a strategy to secure the operational sustainability of the RSE team. Since its inception around 8 years ago, the RSE team has grown from a handful of people to a team of almost 40. We currently have over 80 projects on the books across our nine portfolios (three faculties, the mobile development service (MDS), the web app development service (WADS), our two programmes AI Foundry and Digital Solutions, the Research Lifecycle Programme and the Application Support and Training team), and we receive typically around a dozen new project requests each month as well as various ad hoc calls for assistance through our App Support team and our drop-in sessions.
Ensuring that we are able to manage our demand, deliver software excellence, develop our people and guarantee their wellbeing is a significant challenge. As teams grow, we need to make sure our organisational support (processes, policies and systems) all develop accordingly. The RSE Team Levelling Up Programme (LUP) is designed to capture the requirements of our organisational support and deliver improvements across the RSE team. This will guarantee that we can continue to operate optimally and realise the demand for current and future capabilities and capacity.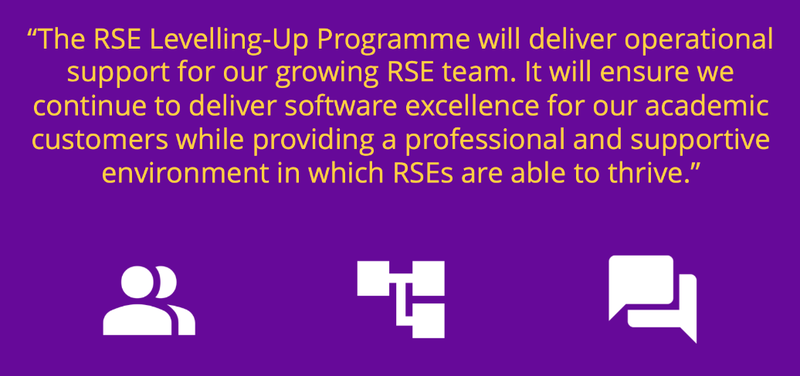 The LUP is a continuous development programme delivering on (presently) 36 projects, of varying size, grouped into three themes: people, process & policy and periphery. The last item is primarily concerned with how we engage with our community and how we present ourselves via our website, but I wanted another theme beginning with "P"!
People
The RSEs in the team are the most important component in our operation. The skills, knowledge, and talent they bring to the team is quite simply the only reason we are able to deliver any kind of service at all. We are fortunate to have a dedicated, enthusiastic and highly skilled group of engineers here in Manchester from diverse educational backgrounds, cultures, and career paths. The projects in this area of the LUP are focussed on developing our people and ensuring that the support they need to, not just do their job, but thrive, is present and effective. This theme is arguably the most crucial to get right if we want to continue to operate and deliver value. We are focussing on developing a Terms of Engagement agreement, similar to other UK RSE teams, which will help set expectations between customers and RSEs, ensures RSEs are given opportunities to grow, and are assigned an appropriate manageable workload. The mental health of RSEs has been rightly brought into the spotlight nationally recently and our work needs to align with activities to improve this going forward.
Process & Policy
As demand for RSE services has grown, ad hoc, undocumented and inconsistent approaches to core activities have become unsustainable. Projects in this area of the LUP concentrate on replacing practices and processes that were adequate when we were small, with new ones more suitable for a larger scale operation. These replacements aim to be more robust, more scalable and more consistent than their predecessors while guaranteeing that the team can continue to deliver to the standard we have established thus far.
For our academic customer base, particularly long-standing customers of the RSE team, you may notice what appears to be policy changes as these projects start to deliver. However, in many cases, this will not be a policy change, but simply the introduction of a policy where there wasn't one before.
Periphery
All the projects in this theme are cross-cutting across the whole of Research IT (RIT) and will be picked up and handled at the RIT level. However, they will capture the key requirements of the RSE team in the process. This website is one such improvement within this theme, providing an increased level of transparency about our activities and operation as a team to our community of customers and collaborators. We will also be looking at our activities on a national scale as part of the N8 Research Partnership and the UK RSE society, and will be establishing a University-wide RSE community space to ensure we bring together all those across the University who do RSE-type jobs, regardless of their job title.
Recruitment and Growth
The recruitment and retention of high quality RSEs continues to remain a challenge for all universities. RSE teams across the UK are growing, and we all continue to recruit from the same pool of candidates. Although this is a global pool, and the reputation of the RSE job is growing, the number of appointable candidates is still below levels of where we want them to be with some recent rounds of recruitment failing to appoint.
One area where we have seen some excellent candidates has been at the graduate and intern level. Our recent group of "Year in Industry" students from the Department of Computer Science are impressing and could have a very bright future in Research Software Engineering if they decide to pursue the option when they graduate.
The LUP aims to deliver on a number of related elements such as generating additional Grade 5 graduate-level positions and renewing the existing intern posts each year. Our future growth strategy therefore is a combination of entry level positions as well as the existing number of standard RSE positions (Grade 6).
Finally, due to the high demand for our services, the administrative and project management functions provided by our senior RSEs is becoming unsustainable so there will also be an increase in the number of management positions (Grade 7) available in the team with three new posts having been approved this year to ease the burden on the existing RSE leadership team.
Current Priorities
Our current focus as an RSE team is centred on our project and portfolio management processes, systems and policy. This is the "engine room" of how we operate and something that we started looking at even before I started in the role. We now have new tooling for project monitoring and a more consistent approach to managing demand is being formalised. We have also drafted our first support and maintenance policy for projects such as web applications and mobile applications to make sure we are able to offer support in a sustainable way. We aim to continue to document our processes in these areas with a view of making them publicly available soon.
Feedback and Contact
If you have any questions or concerns, then please don't hesitate to contact me via email. Your feedback on any of the changes delivered via the LUP as they are introduced is encouraged.