The University of Manchester Library, in collaboration with our Research Software Engineers, has recently put together an online Guardian Exhibition. This exhibition displays a selection of historical items taken from the University's Guardian Archive showcasing the newspaper's history over the past two centuries since its inception in 1821 after the Peterloo Massacre. Unique items on display include high resolution photographs, handwritten letters and telegrams of the people involved in the Guardian's development such as Charles Prestwich Scott, John Edward Taylor and many others.
Research IT was asked by the Library to assist with building the platform on which the exhibition website was mounted and to install customisations that solved their bespoke requirements . The exhibition is built around the relatively new Omeka S digital collections web publishing platform which is specifically aimed at the display of digital library collections and exhibitions on the web. It is hosted on a LAMP server and is open source, fulfilling a number of key requirements including:
Low cost hosting and storage on a Research IT Virtual Machine rather than a paid external provider
Relatively fast to set up in a matter of weeks, and easily maintainable thereafter
Provides user management and authentication
Indexing of items for search and discovery
Detailed statistics via Google Web Analytics
The platform is also International Image Interoperability Framework (IIIF) compliant therefore images can be viewed on any IIIF compliant viewer which additionally provides deep zoom, image panning, one click page turns and image tiling functionality.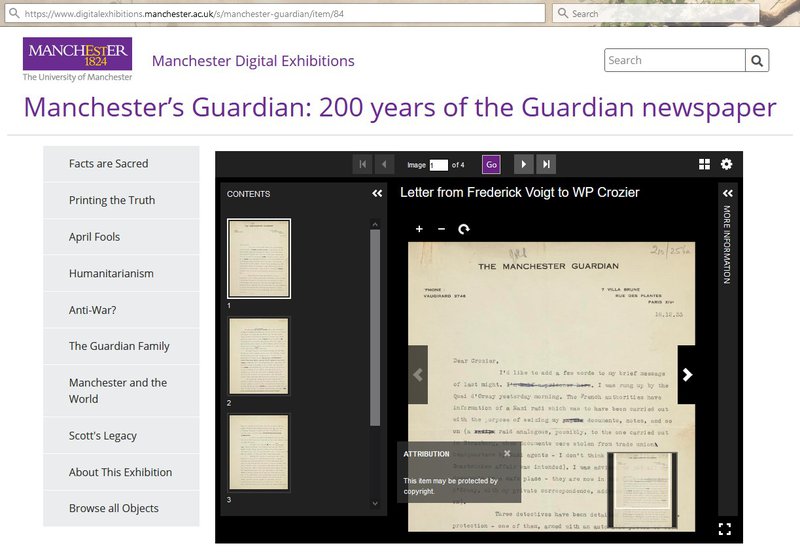 The site is intrinsically responsive so renders well on both mobile devices and desktop computers. Being standards based, it is interoperable and metadata compatible with existing library systems enabling item data such as images to be shared between systems reducing duplication. Plugins further extend functionality with useful features such as mapping and timeline features without the need for manual hard coding, thereby saving development time.
The virtual exhibition has been mentioned in a Guardian press release, and since its launch in May 2021 has had nearly 3000 views by an audience spanning 19 different countries (including many from Canada, the US and China) demonstrating a key advantage of making available library exhibitions over the internet.
If you have research outcomes that you would like to make available to a wider audience using a digital collections platform please get in touch with us.