The Alliance Manchester Business School now has a new 3D, large-scale visualisation facility which is the new home of data-driven research, engagement and teaching activities at The University of Manchester. It will provide a way to visualise data on a huge scale via 72 full HD screens, and will help to develop new insights into data and models.
The possible uses for the new observatory are endless, whether it be providing high-fidelity interactive visualisations of very large data sets, capturing user behaviour in controlled immersive environments, or digital simulations of manufacturing processes and designs.
Here are just some specific examples of research uses:
Industry 4.0 - simulating innovative mechanisms for flexible routing of materials through a factory with a complex layout
Health - visualising health data and immersive observations of brain signals and anatomical models
Environment - linking air quality simulations and real-time traffic flows to reduce pollution levels
Marketing - observation of customer behaviour in a simulated retail environment under controlled conditions
Fintech - visualising monetary flows and stock market behaviours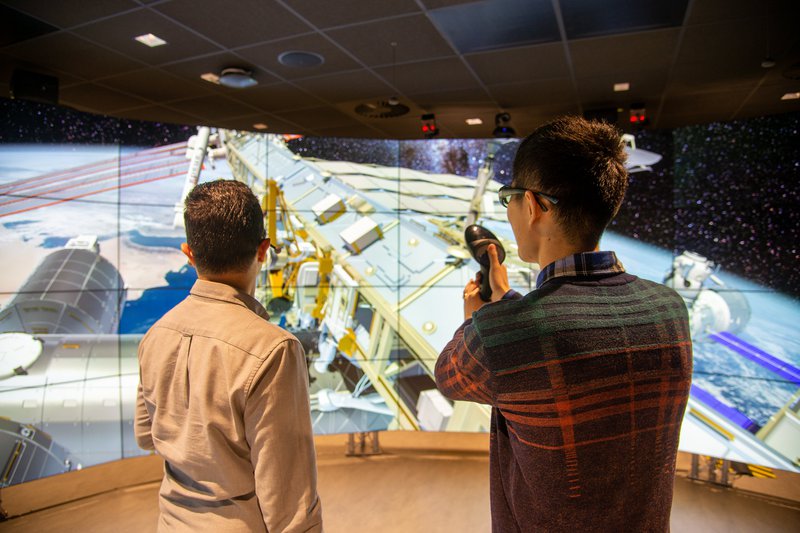 Nikolay Mehandjiev, Professor of Enterprise Information Systems, said the School's work with Transport for Greater Manchester (TfGM) was a perfect example of where the new laboratory would have major benefits. "We have been working with TfGM since about 2010 on various projects around AI learning and air quality, looking at how you balance traffic flows by controlling routes and how can you make use of real-time information to reduce pollution levels. So the laboratory will enable us to develop simulation models and create a visual dashboard using real time data. It will also help us analyse various interventions for controlling traffic flows."
Professor Mehandjiev added that the drive towards Industry 4.0 and simulating the movement of goods within factories to deal with increasing mass personalisation was another area where the laboratory would bring major benefits. "Factory managers will be able to immerse themselves in 3D simulation as they deal with the increasingly challenging environment of processing more and more personalised goods. Today you increasingly find that the order mix in factories can change hour by hour."
If you are interested in finding out more about this facility please contact the Data Visualisation Observatory team.