Developed by Microsoft, the HoloLens is a groundbreaking Augmented Reality headset that mixes computer generated imagery with the outside world. This allows wearers to interact with the holograms using their hands. Explore galaxies, explore the cardiovascular system or even take down an alien horde invading through your walls. With a focus on industry and research HoloLens offers a different way of displaying and parsing information, and interaction.
To see a great example of a Hololens in action, see how Japan Airlines uses the HoloLens in training to allow engineers to explore jet engines during training.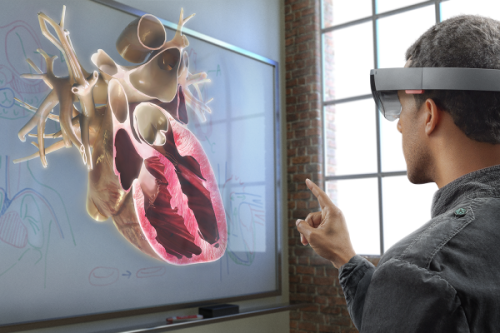 If you would like to try the HoloLens and to see if it fits in with your research goals, get in touch. Please also get in touch if you are interested in using any of the other vDAL equipment including the HTC Vive headset, Google Pixel and Daydream VR, Google Cardboard, zSpace AR Workstation and a high-end dual GPU workstation with touch and 4K displays. Please note that vDAL has now moved just down the corridor from it's original location.
Thanks to Andrew Fitzgibbon at Microsoft Research for arranging the long-term loan of the Hololens.