The range of capabilities needed for high quality research has three areas of focus: 1) e-Research infrastructure (i.e. hardware & software); 2) Research information and data management and 3) Administration of research (i.e. systems). The IT systems that underpin the capabilities overlap these areas: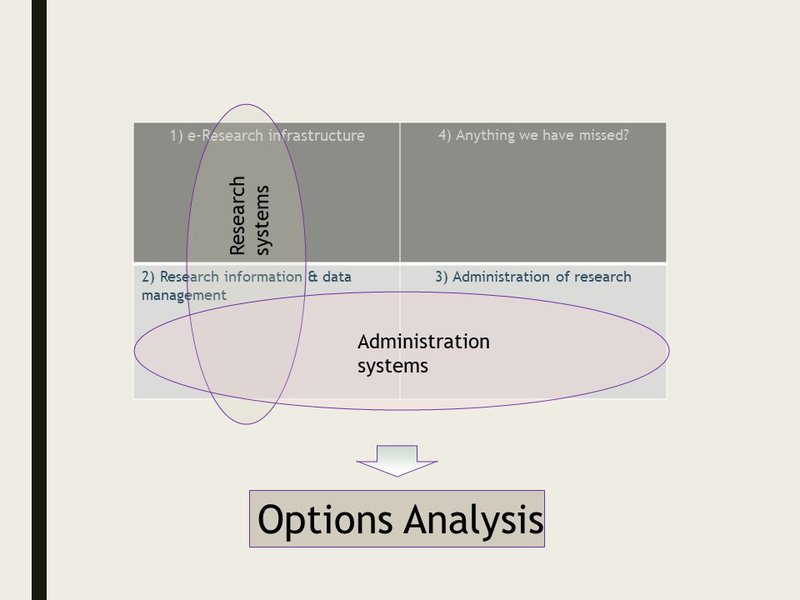 As part of the project we aim to engage with a cross section of researchers through focus groups and working parties to see if there is anything we have missed in the broad scope of the three areas of focus.
So what has been happening? The outline design of the scoping phase has been agreed with University governance; a plan to procure resources is being developed alongside the overall project plan; a new academic advisory group for Research IT is being established that will have a strong role in the e-Research infrastructure piece. The aim is to complete the scoping phase by Easter 2018.
Important considerations
Research Lifecycle differs from the Student Lifecycle project currently underway with several considerations: every episode of research is different; timescales for the total life of a single piece of research may be decades from initial idea to final deletion of data from a repository; and lots of others issues that will come out in the scoping activity.
We are focusing on a journey through a single episode of research, but this must be seen in the context that researchers undertake a portfolio of activities that are often related and intertwined.
Additionally much research is now undertaken collaboratively with partners from across the globe, it is vital to plan the Manchester Research Lifecycle in context of these collaborations.
To keep up to date with news about the Research Lifecycle project subscribe to our newsletter or keep an eye on our blog. If you have any questions about the Research Lifecycle project then please get in touch.